A Short History of Coupons

I wish I could remember the very first time I used a coupon – what a great story that would make for this article.  Unfortunately my memory isn't that good – so I decided I'd try to find
out when someone else used a coupon for the first time.
According to couponmonth.com – coupons were born in 1894 when Asa Candler, the druggist who bought the formula for Coca-Cola for $2,300, gave out handwritten tickets for a free glass of his new fountain drink.  Wow, I wonder if there are any of those coupons still around – I'd love a few free Cokes – well, Diet Cokes anyway.


There's some controversy about whether this was truly the first coupon since old Asa just scribbled it on a piece of paper.  I mean, we couldn't get away with that today, could we?  It's hard enough getting some stores to redeem coupons we print off the internet.



So we move on to the next year – 1895 – when the first printed coupon was used.  C.W. Post distributed the first grocery coupon worth one cent towards his new health cereal, Grape Nuts.  I'm not a Grape Nuts fan so I wouldn't clip that coupon, but I do have an interesting observation at this point – at least I think it's interesting. 


Observation:  Of all the food and drink companies that have placed their products in grocery stores since 1895, many have failed or disappeared (ever hear of Crystal Pepsi, Smurfberry Crunch, Giggle cookies, Shak A Puddin, Tang?).  But the first two companies that used coupons to market their brand are still filling our grocery shelves with their products.

Love 'em or hate 'em – coupons have been helping savvy shoppers save for over 114 years.  Americans relied on them in the 1930's to help feed their families during the depression.  As shoppers moved from the corner grocery to larger supermarkets coupon usage increased each year.  By 1965 over ½ of American households used coupons. 

Today many people are still struggling with high prices and coupons are one of the few things that can help families survive in this tough economy.  Here are some facts:

In 2007 a survey showed that 89% of the United States population used coupons to save approximately $2.6 billion dollars.

Manufacturers offered over $350 billion dollars in coupons that year – leaving over $347 billion dollars in coupons unredeemed.

The typical family saved 7% on their grocery bill in 2007 by using coupons – for a savings of $5.20-$9.60 per week.  That may not sound like a lot, but with an average of $8 per week those savings add up to over $400 for the year.  And that is for casual coupon usage.  Serious coupon users save much, much more.

So, are you ready to start saving with your share of that $350 billion dollars in coupons?  Then come on, follow Mom to start saving on groceries and more!




Getting Started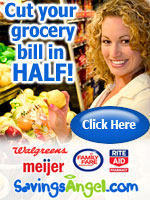 Susan / TX
Items I don't buy anymore since I started stockpiling whenever they're free:

> Toothpaste
> Toothbrushes
> Pain meds (Excedrin, Tylenol)
> Shampoo & Conditioner
> Body Wash
> Cereal (sometimes I will pay $0.25 for a box)
> Dishwashing Liquid (Dawn)
> Paper napkins
> Cosmetics (mascara, eye shadow, foundation, lipstick, nail polish, eyeliner)

As long as you're not partial to a certain brand, you can get quite a few items for free by using coupons and matching them with sales.
Wendy Joy / TX

Even though I live on a meager teacher's salary, I thoroughly enjoy my life. I'm very frugal, though! I've been saving my frequent flyer miles from American Airlines for about 5 years now, even though I've only actually purchased one or two air tickets. I earn miles from Tom Thumb for buying gas & groceries. Also, my energy company gave me several thousand miles for signing up and 2 miles for every dollar I spend. This summer my mom and I are flying to Curacao, Netherlands Antilles, for a well-deserved break! The savings on my airline ticket was over $900!! So, make sure you avail yourself to all frequent flyer mile opportunities.